On my first week of clinical rotations I had to go to virology. It is basically this tiny little portion of the micro lab that is made up of a fridge, a vent hood, and 2 microscopes. Everything that virology used to do has moved to molecular pathology. It makes sense considering that you can get the same results in about a fraction of the time. 
The main tests that are run in the virology lab at the hospital I'm at are Herpes Simplex Virus 1 ("above the waste") and 2 ("below the waist"). Herpes is a large, enveloped dsDNA virus that replicates in the nucleus that usually infects early in life (HSV-1). Both 1 and 2 can establish latency in the dorsal root ganglia that can reactivate to cause disease later life. Most people are familiar with the formation of a "cold sore" or a Herpetic whitlow, which is seen on the fingers. Both 1 and 2 can cause disseminated infections in the immunocompromised.
Diagnoses of either Herpes 1 and 2 can be done several ways. There is the direct exam with Direct Fluorescent Antibody (DFA) of scrapings and Tzanck stain (not used much anymore). Molecular diagnoses can be done using PCR, which is the test of choice for CSF. There is the traditional cell culture method using MRC-5, FS and A549. All the cell cultures have to be confirmed by FA stain. Cytopathic effect (CPE) for Herpes is characterized by cell rounding, clumping and formation of syncytia. Now there are new serology tests that are able to discriminate between HSV 1 and 2.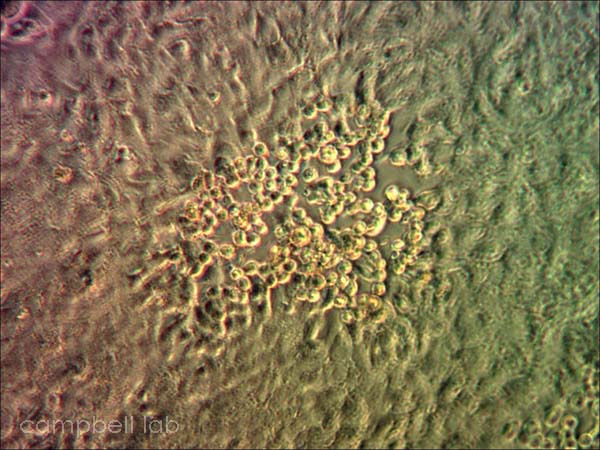 One of the reasons that this hospital still has the virology department is that pediatricians and neonatologists require that HSV-1 and HSV-2 have to have living cells. Kind of doesn't really make any sense because molecular can run the test and come up with a positive a lot faster than the viro lab. The doctors will treat if molecular comes up with a positive but they still want the cell cultures. I guess they would want it for legal reasons if a child does turn up as a positive for HSV-2. I believe it is a waste of resources and tech time.